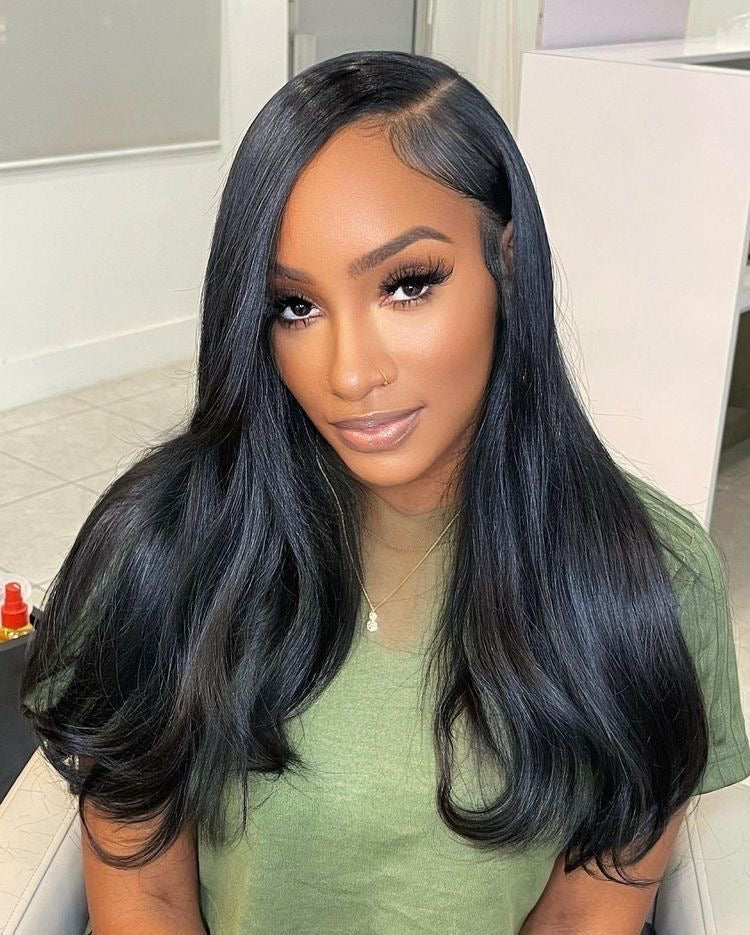 ULTIMATE GUIDE TO LONG-LASTING STRAIGHT HAIR: 9 PRO TIPS
ULTIMATE GUIDE TO LONG-LASTING STRAIGHT HAIR: 9 PRO TIPS
Sleek, glamorous, and always on-trend, straightened hair is a timeless hairstyle that never fails to make a statement. Whether you're getting pampered at a high-end salon or rocking the DIY approach at home, achieving that picture-perfect straight look can truly transform your style. But let's be real, we've all encountered those pesky frizz and curl surprises that threaten to sabotage our good hair day. Don't fret, though! In this blog article, we're spilling the tea on expert tips and tricks to conquer these ongoing challenges, ensuring your locks stay flawlessly straight and ready to make heads turn, no matter where you strut your stuff.
1. Timing is Key:
Pay attention to the weather conditions before straightening your hair. Dry and sunny days are ideal, as they minimize humidity, while humid or rainy days can lead to frizz and curl. Adjust your straightening plans accordingly to avoid unnecessary hair emergencies.
Pinterest​​
2. Deep Conditioning for Hair Nirvana:
What's important is leveling up your hair conditioning routine. Deep conditioning is one main key to luscious silky hair that turn heads. Our top pick? Ressurection by TiGi Bed Head. This professional high-quality, moisturizing conditioner will transform your hair's texture and manageability. Say goodbye to frizz and flyaways, and hello to smooth, cooperative hair.
STRAIGHT HAIR REMEDY
A​​mazon.com
3. Choose the Right Flat Iron:
When it comes to straightening your gorgeous natural hair or Her Lavish Hair Collection wigs or extensions, choosing the perfect flat iron is not a game, sis. We all know, not all flat irons are created equal! You deserve the crème de la crème, a straightening tool that will make your hair dreams come true.
So, before we go deep, we're spilling some tea on the ultimate flat iron that will have you looking like you just stepped out of a high-end salon. The Babyliss Nano Prima 3000: Pro Hair Stylists Secret Weapon to Straight Hair. This fabulous tool is an absolute game-changer when it comes to achieving sleek, bone-straight hair that screams glam. Trust us, babe, it's a must-have for your at-home straightening routine. 
The Babyliss Nano Prima 3000 is here to make your hair dreams a reality with its advanced technology and nano-titanium plates that deliver salon-quality results like no other.
What makes this baby even more incredible is its adjustable heat settings and lightning-fast heat-up time. You'll have total control over the temperature, ensuring you can tailor it to your hair's unique needs. No more guessing games, sis! And let's not forget about its durability. This bad boy is built to last, so you can count on its exceptional performance time and time again.
So, whether you're rocking Her Lavish Hair Collection's Raw Indian Textures or any other fabulous style, the Babyliss Nano Prima 3000 will be your ride-or-die partner in crime. Get ready to slay those straight hair goals with ease and confidence. 
Trust us on this one, babe, this flat iron will have your hair looking fierce in no time! Get ready to do your hair the easy way. You're unstoppable, darling!
4. Temperature Control for Hair Harmony:
Finding the right temperature for your hair is essential for achieving a flawless straightened look. Avoid excessive heat that can damage your hair. Always be mindful of your flat iron's manual and set the temperature that suits your hair type. Remember, gentle and controlled heat is key to healthy, straight locks.
Pinterest​​
5. Pre-Straightening Prep: Brush It Out:
Tangles and knots can ruin your straightened look. Prior to straightening, use a wide-toothed comb or detangling brush to gently remove any snags. This step promotes smoothness, minimizes breakage, and sets the stage for a successful straightening session.
Amazon.com​​
6. The Power of Heat Protection:
Now let us spill the tea on keeping your hair safe from heat damage. Get yourself a quality heat-protective spray. Apply it generously before straightening to shield those strands and make styling a breeze. Our fave is Trilliance Sebastian, perfect for natural hair and Her Lavish Hair Collection extensions. It's lightweight, yet super effective. Trust me, your hair will thank you later. 
7. Root to Tip: Straighten with Precision:
When you start straightening, don't play around, go straight to the roots and work your way down. We're talkin' about a sleek and polished look right from the jump, honey! But, don't rush the process. Take your time, section your hair, and treat each strand with love and care. Your hair deserves all the tender lovin' care, and trust me, you'll be turnin' heads with that flawless straightened style. 
8. Lock in the Look: Seal Those Ends:
You'll want to pay extra attention to the ends of your hair, as they are prone to damage and frizz. Tame and straighten them effectively, using a small amount of hair serum or styling wax to keep them in place. This will give your overall hairstyle a polished and cohesive appearance.
9. Embrace Anti-Humidity Products:
Humidity can quickly sabotage your straightened hair. Invest in anti-humidity hair products such as serums, sprays, or creams that are specifically designed to combat frizz and protect your hairstyle. Apply these products before stepping out into humid environments to maintain your sleek look.
Mastering the art of straightening your hair doesn't have to be a daunting task. By following these expert tips and incorporating them into your routine, you'll be well on your way to achieving effortlessly sleek locks. Remember to choose the right flat iron, consider timing and weather conditions, prioritize deep conditioning, protect your hair from heat, prep it thoroughly, straighten with precision, seal the ends, and embrace anti-humidity products. With these techniques in your arsenal, you'll have the confidence to rock that stunning straight hairstyle like a pro. So go ahead, embrace your inner stylist, and enjoy your gorgeous, sleek hair journey!