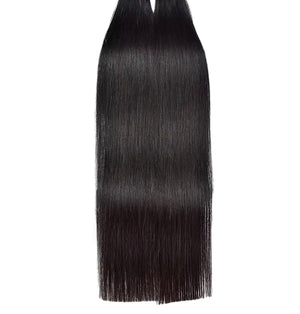 INDIAN STRAIGHT TAPE-INS
These extensions are made with 100% virgin hair, and blend seamlessly with your natural locks, giving you a voluminous and luscious look that'll make heads turn!
Installation is super simple with pre-taped wefts that require no tools or heat! The medical-grade adhesive used in the HLHC Tape-In extensions ensures that they are gentle on your hair, so you don't have to worry about any damage!
But that's not all, girl! These Tape-In extensions are not just easy to install - they last for weeks and can be reused up to 3 times! With proper care, they can last up to 6 months! And the best part? Our extensions are made with top-quality materials and gentle color treatments that will make your hair look like a dream! So, don't wait any longer and get your hands on Her Lavish Hair Collections Indian Tape-In extensions!
NOTE: ONE SET OF TAPE-INS COMES WITH 40 PIECES. IT IS BEST TO HAVE A TOTAL OF 3 SETS IF YOU ARE INSTALLING UNDER 20", AND 4 SETS WHEN INSTALLING ANYTHING 20" AND OVER TO ACHIEVE A SEAMLESS BLEND AND GREAT DENSITY.